Asplosions Are Fun! is the ninth episode in Kirby: Not Right Back at Ya!
Random asplosions happen.
Characters
Edit
KIRBY goes out of his house. Then it asplodes for no reason.
KIRBY: WTF?
KIRBY goes to TUFF's house. On the way he sees a plane with S-Plosions Co. on it, which asplodes.
KIRBY: Hey what's-- ALIEN INVASION!!
Numerous aliens fall out of the sky. KIRBY grabs a random hammer.
KIRBY: Let them come!
KIRBY whacks most of the aliens, but when he's about to whack the last one, his hammer asplodes.
NELSON MUNTZ: Ha-Ha!
NELSON MUNTZ asplodes.
THE LAST AILIEN: ZEEKY BOOGY DOOG!
The alien asplodes. SOME RANDOM GUY WHO LIKES MOVIES pops up.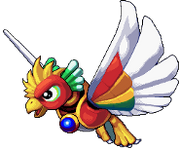 SOME RANDOM GUY WHO LIKES MOVIES: You maniac! You blew it up! Damn you! Damn you al to hell!
SOME RANDOM GUY WHO LIKES MOVIES asplodes. "THE END" appears. The T and N asplode. The camera pans out to see YOU watching the episode.
YOU: It would have been better if that scene was in.
Your TV asplodes.
YOU: WTF?
Never watch this episode, or your TV asplodes.
A lot of stuff asploded in this episode (nine in total).
It was comfirmed that the reason of all the asplosions was the plane.
This episode was random and made no sense at all.
This episode had a weird ending.
This episode was short.